After many hours of searching for the perfect towel rack Schoon and I decided that there wasn't one exactly like what we wanted. We had found some on Etsy that were close, but they were around $100 and not perfect. With paying $100 for a towel rack I wanted it to be exactly the towel rack of my dreams. Since I wasn't willing to pay that much for a towel rack it meant that I was going to try to figure out how to make the one that we wanted.
We really liked these towel racks, so if you are willing to spend that much on towel racks and need a source for beautiful ones here you go. These pictures are from their Etsy pages; the first rack is from noirdotdesign and the second one is from DmsDesignTeam.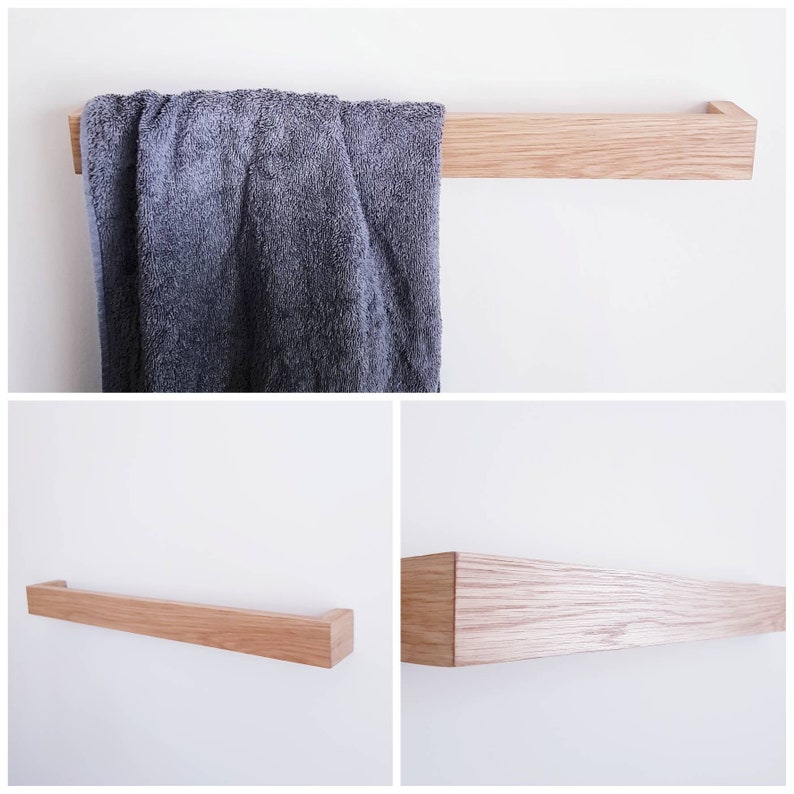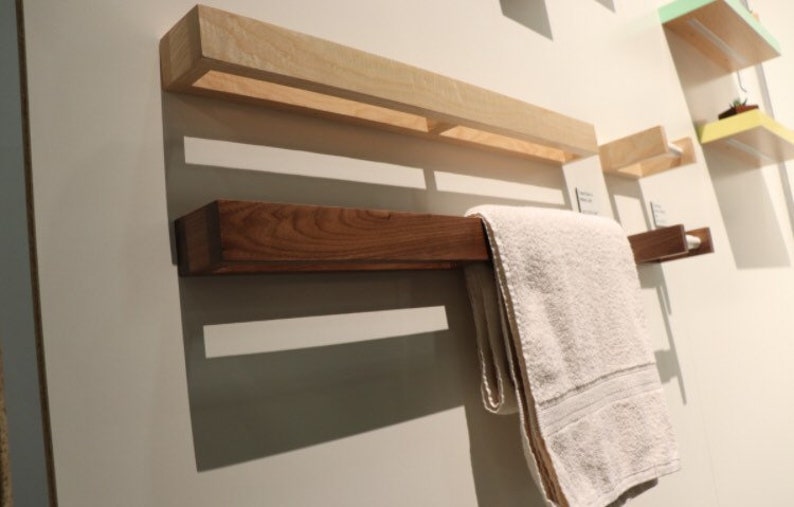 After I decided to try to make my own towel rack I started the process of digging through Pinterest and the rest of the internet for ideas on how to make the towel rack of our dreams… With a circular saw, a couple saw horses, and hopefully use up some of the scrap wood in our garage. I came across DIY Scrap Wood Towel Rack from Shara at the Woodshop Diaries and it seemed like a good place to start.
It also wasn't exactly what I was looking for, but with the materials costing about $3 I figured it was worth trying. I decided that 45 degree angles on the wood would be prettier than just straight cuts and I tried to that but didn't think about the fact that the hypotenuse of a right triangle is longer than the other two sides and they wouldn't fit together on a side where I was trying to cut different directions. I didn't feel like trying to figure out a solution to that so I cut the back ends and was just going to put that on a 1 X 6 piece of wood so I removed the different direction cuts. When I went to put the 45 degrees together I realized that my cutting with the circular saw did not produced very good angled cuts and it wasn't going to work.
I then decided to go back to the original idea of just straight cuts and put it all together. When I decided to do this, the cutting and screwing together would have been completed in probably about 30 minutes, but I accidentally screwed my drill bit into a knot and the knot did not want to let go of the bit… I may have bent it. Then after I screwed everything together I painted the towel rack.
On the towel rack that I went all the way to completion on, I used 1 2″ X 2″ X 8′ piece of furring strip lumber from Home Depot. The towel rack I did not complete was supposed to be made out of a 2″ x 2″ x 8′ White Furring Strip from Lowe's, but they gave me one that wasn't white. I didn't find a difference in the quality of the two pieces of wood.
I'm only going to give the dimensions of the cuts for the completed towel rack because I can't remember what the dimensions were of the other one. I cut two of each 24″, 6″, and 1.5″. Once I hung the towel rack on the wall I put in two plugs. They are 3/8″ each and were already here at the house :-).
As I finish up this post I am reminded that you can only get better if you learn from what you have already done. Things don't have to be a mistake in order to learn from them.
What I am taking away from this project is that I should measure how wide a towel is before I cut wood to make a towel rack. I would have preferred for my towels to have been able to lay flat, but I didn't check that. I also didn't think about the fact that if I cut the wood 24″ inches wide the amount of space available for the towels would only be 21″ which is apparently not wide enough for a towel to be flat.
Maybe some day I will complete the 45 degree towel rack… We will see.